Technologies that assist recovery of the brain and body
We study technologies that fuse medicine and engineering in order to prevent and minimize disorders of the mind, bodily function, activities of daily living, and social participation, which originate in diseases of the brain, nerves, muscles, bones, and joints (Fig. 1). Specifically, we will conduct studies on the induction of plastic changes by non-invasive brain stimulation technologies, movement optimization by applying motion analysis technologies and computational neuroscience, construction of a community-based rehabilitation system by applying information engineering technologies, and psychosocial intervention techniques to implement patient-centered medical care using these technologies and systems.
Activities of the Tohoku Dysphagia Rehabilitation Study Group
Eating/swallowing is one of the most basic of human activities. At the same time, it is a highly complex behavior that involves the recognition of food, its consumption and mastication, and deglutition; hence, it is attracting attention as a topic for neuro-rehabilitation. Our laboratory serves as the administrative office for this study group, whose common goal is to work on eating disorders. Various healthcare professionals, medical researchers, educational workers, food-related companies, and administrative offices are working in unison to study, practice, and popularize dysphagia rehabilitation
---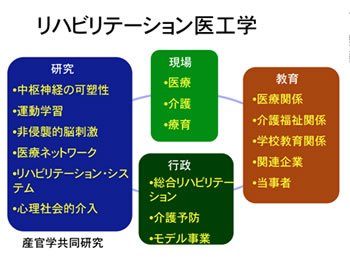 Scope of activity for the rehabilitation medical engineering field.
Research results are applied at healthcare, nursing care, and rehabilitation settings. Educational activities for society are also carried out. To popularize technologies, coordination with administrative offices is enhanced through model businesses as well as collaborations between industry, government, and academia.
---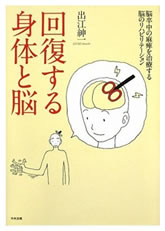 回復する身体と脳